Find information on our past events...
Homes with Hope Short Video from Homes with Hope on Vimeo.
Homes with Hope, Inc. is a private, non-profit Child-Placing Agency for children in foster care.
Our mission is to restore abandoned, abused or neglected children into homes by establishing them in a community of Christ-centered families who will, in relationship with the local church, foster children and in some cases, even adopt them.
Presently, there are approximately 588,000 children in the foster care system in the United States. This represents 20,000 more children than the year before. Unfortunately, 30% of established foster homes leave fostering each year. Texas is not immune to this epidemic.
Each year in Texas, nearly 50,000 cases of child abuse and neglect are confirmed ... 137 times a day, six times an hour, a child in Texas is being abused or neglected. Houston, Harris County has the third largest population of abused and neglected children in the United States surpassed only by New York and Los Angeles.
The Lord has heard the cries of these children. He desires to provide a loving, secure, compassionate community in which they will be cherished, healed and nurtured to their full potential. We believe that the Lord demonstrates his heart for these children through our expressions of love.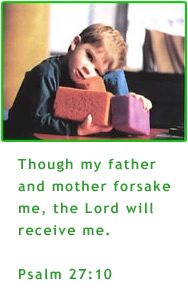 General Qualifications for Becoming a Foster/Adoptive Parent
Homes with Hope generally will verify foster care for a maximum of 2 children. This policy can be altered with the Program Directors approval when in the best interest of the child, for example in the case of sibling groups. We will not verify homes for more than eight (8) children including the parent's biological or adoptive children.
Be a responsible, mature, healthy adult capable of meeting the needs of children in care.
Be at least 21 years old.
Have no criminal record.
Have a high school diploma or GED.
Have been married at least 1 year (same for if divorced or widowed)
You can be single and be a foster parent
Be willing to agree to NO use of physical discipline.
Have a driverís license, auto insurance and dependable transportation.
Have a bedroom of at least 80 sq. ft. for one child or 40 sq. ft. per child if sharing a room.
Must be a US citizen (current green card is acceptable).
Chart showing the Foster/Adoptive Care Process